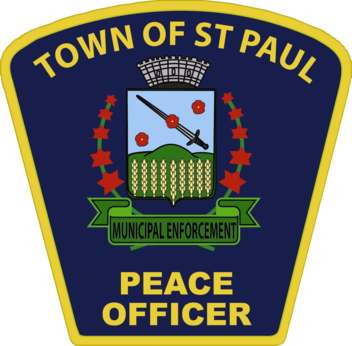 Community Peace Officer
Welcome to the Town of St. Paul's Community Peace Officer section of our website!

Here you will find a variety of information geared towards your safety, your family's well being and the safety of those around you. This knowledge will help answer questions you may have and are preventative measures.

Community Peace Officers perform a range of duties at the community level. Their duties vary in nature and scope depending on the unique needs and priorities of the communities they serve. These can include traffic enforcement, enforcement of other provincial statutes, enforcing and education of municipal bylaws, public education programs, presentations in schools, or other roles that are administrative in nature. They enhance the work of Police Officers performing various roles that assist in maintaining the peace. The Peace Officers are duly appointed as Community Peace Officers under the Peace Officer Act and as Bylaw Enforcement Officers under the Municipal Government Act.

The Town of St. Paul currently employs two Community Peace Officers.

Their Duties and Responsibilities
• Education and enforcement of selected municipal bylaws
• Traffic Control
• Animal Control
• Working in cooperation with RCMP, Fish and Wildlife, Commercial Vehicle Enforcement, St Paul Fire Department, EMS
• Assist in emergency / disaster response under direction of the Director of Emergency Management
• Other related duties
Their Appointed Provincial Authorities Pursuant to Section 7 of the Peace Officer Act
• Animal Protection Act
• Dangerous Dogs Act
• Environmental Protection & Enhancement Act
• Gaming Liquor & Cannabis Act
• Provincial Offences Procedure Act
• Stray Animals Act
• Tobacco & Smoking Reduction Act
• Traffic Safety Act
• Trespass to Premises Act