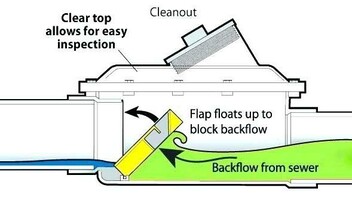 What is a backwater valve?
The drainage system inside your house channels wastewater from your sinks, laundry, shower, and toilet through pipes that connect to a main sanitary sewer pipe under your house.  This pipe leads to the property line where it connects with the Town's main sewer line.
A mainline backwater valve can help prevent sewage in an overloaded main sewer line from backing up into your basement. Placed directly into the sewer lateral in your basement , the valve automatically closes if sewage backs up from the main sewer.